Introduction and Infrastructure
1. Location
The Faculty of Disability Management and Special Education (FDMSE) is an Off-Campus Faculty of Ramakrishna Mission Vivekananda Educational and Research Institute (RKMVERI) head quartered at Belur Math, Kolkata. It is located in the Ramakrishna Mission Vidyalaya Campus at Coimbatore. Vidyalaya is one of the major and legendary educational institutions of Ramakrishna Mission. Vidyalaya is set 19 km apart from Coimbatore main city on the Ooty–Mettupalyam high way. When one travels to Ooty on this high way one enjoys the sight of Western Ghats-stretch, declared as a Heritage site by the government of India on right side. To the left is situated Vidyalaya in about a 300 acre area in a serene environment, away from the bustle of life. Shri T.S. Avinashilingam founded Vidyalaya in 1934 while Mahatma Gandhi laid foundation stone. Over years Vidyalaya had grown into a huge educational complex housing 19 educational institutions, offering courses from pre-school to doctoral levels till date. FDMSE is one amongst the 19 institutions of Vidyalaya. FDMSE being a part of Vidyalaya which houses different branches of learning, it is an obvious benefactor to FDMSE in terms of infrastructural facilities and multifarious branches of knowledge.

2. Genesis
FDMSE is the first Off-campus Faulty center of Ramakrishna Mission Vivekananda Educational and Research Institute. There existed an institution named International Human Resource Development Center (IHRDC), dedicated to the service of the persons with Disabilities in Vidyalaya. The Institute was catering to the Educational and Vocational needs of persons with disabilities Since 1985. In 2005 IHRDC was absorbed into RKMVERI and was renamed as FDMSE.
3. Aims
The Faculty aims at preparing world class teachers in Special Education and train persons with disabilities to equip them with daily living, academic and vocational skills. To realize the aims the Faculty is provided with appropriate infrastructural Facilities.
4. Administrative Building
This houses offices of Administrative Head, Dean, faculty members, office bearers and research scholars. It has a fully provided assembly hall, conference room and multi-purpose hall for conducting the daily assembly and occasional meetings. Apart from these some of the extension units like Braille Press, Orthotic and Prosthetic Unit, Mobility Lab, Sign Language Unit, Low Vision Unit, Audio Video Lab, Vocational training Unit and Assistive Technology Lab are situated in the same building. The building is disabled friendly and is provided with ramps, lift, wheel chairs and disability friendly toilets.
5. Academic Block
It is a huge class room complex with 20 class rooms. Classes are held in this building for different programmes offered at our University. The building is disabled friendly and fully furnished for all class room activities. It also has a fully furnished Disabled friendly Library with about 1,00,000 books and journals. The Library has computers provided with internet facility and soft-wares like NVDA and JAWS meant for visually challenged population. There is a separate Braille book section in the library. There are several CDs and DVDs to encourage different modes of learning.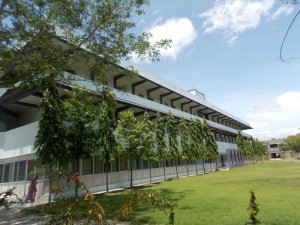 Faculty of Disability Management and Special Education (FDMSE) library is situated in the main academic building. It has an elegant stock and wide collection of over 10,000 books which include textbooks, reference books, periodicals, dictionaries, encyclopedias, thesaurus, annual reports, and project reports pertaining to special education, general education and allied fields. The library has more than 35 subscriptions of periodicals including national and international journals and magazines. The library abounds with various other instructional materials such as DVDs, Audio and Video cassettes, Braille books and books on Sign language. In addition, large number of research theses and dissertations add to the richness of the library. The library provides a great resource for teaching, learning, training and research. It has computer database of all the volumes of books available which makes the location of the book easy to search. Internet and reprographic services are available to for the convenience of the students. It is used by many readers including teachers, students, researchers, staff members and those coming from outside with necessary permission. The library provides congenial environment for the readers. The uniqueness of the library lies in the fact that it is well equipped with various soft wares friendly for the use of persons with various disabilities.
6. Hostel for Men and Women
Swami Vivekananda Hostel for Men (Capacity 144) and Sri Sarada Devi Hostel for Women (Capacity 82). These are two separate hostels meant for teacher trainees undergoing various courses at our Faculty. The Hostels in general are disabled friendly provided with ramps etc. There are rooms with attached bathrooms inside the hostel, which are disabled friendly especially to accommodate physically challenged teacher trainees. Each hostel has separate huge dining hall, a prayer hall and playfields for recreation.
7. Special Education Unit
This is another place where the children with disabilities are attended to by our expert special educators. Teacher trainees also undergo hands on training here about how to deal with children with disabilities. We have three spacious rooms in this area for this purpose. Parents of the children with disabilities are given training at personal level to deal with their children. The area is provided with different Play grounds for teaching Adapted Physical Education to children with disabilities. A small scale canteen supplies the refreshments for the people at FDMSE.
—
8. Recreation
All the buildings situated in Spectacular Sprawling campus of the FDMSE are well connected by roads. There are beautiful gardens all over with many a species of plants. Many species of birds, especially peacocks are our occasional visitors. An Indoor stadium of international standards, a well equipped Gymnasium, various playfields belonging to Vidyalaya cater to the recreational needs of our students. Large GKD Auditorium with a capacity of 800 is the place where we organize our annual day, cultural events and seminars. There are Ramayana Park and Vivekananda Park for relaxation. There are provisions for staff-members to stay inside the Vidyalaya Campus. These are among the other infrastructural facilities that FDMSE enjoys because of its setting in Vidyalaya to mention a few.