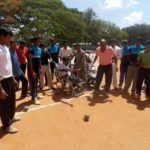 Project Sports Meet And Inclusive Sports Meet 2016
Every year our faculty conducts project sports meet and inclusive sports meet for our students as a part of their curriculum. This year the first project sports meet and inclusive sports meet was organized on 3rd August 2016. Our students were divided into 4 groups namely Anjaneya house, Arjuna house, Bheema house, and Parasurama house. The first meet was organised by bheema house.
1500m walk, 800m, high jump, triple jump, 4 X 400m relay, 4 X 100m relay, 100m and medley relay and for inclusive sports meet events for Intellectually Disabled, Visual Impairment, Hearing Impairment and orthopaedic impairment were conducted. The students actively participated and showcased their talents.
Dr. S. Alagesan, Professor & Head, Dr. P. J. Sebastian, Dr. M. Srinivasan, Dr. R. Giridharan, Dr. A. Sathiya Moorthy, Sri P. Senthilkumar, Sri M. Ravi, Dr. Dibakar Debnath, Sri D. Yuvaraj and Sri Ananda Gosh were the committee heads with bheema house students heading various organising duties.
In the inaugural function Swami Tamoharanandaji Maharaj, Warden, College of Arts and Science was the chief guest who inaugurated the function and declared the meet open.
In the valedictory function Swami SuyamPrabhanandaji Maharaj, Asst. Warden, Swami Shivananda hostel was the chief guest and distributed the prizes.
INDIVIDUAL CHAMPION – Mr. Prasanth, BPED I Year
CHAMPION HOUSE – Anjaneya House
BEST MARCHING HOUSE – Parasurama House